Looking for the old Kontakan site? It has been moved to Berkada.com.
Instructions
Game Info

Neon Tracks
Complete a track from start to finish using the given hints on the left and top of the grid. The hints indicate how many track parts are in the given row or column.
Users who played
Similar Games

Daily Trees and Tents
Daily classic logic puzzle game where you have to place Tents next to Trees. Read the in-game help f...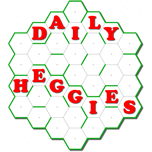 Daily Heggies
Daily puzzle game in 2 degrees of difficulty. Draw a single line that connects all cells.

Daily Killer Sudoku
Play Daily Killer Sudoku levels. Fill the grid with the numbers 1 to 9, such that each row, column a...