Looking for the old Kontakan site? It has been moved to Berkada.com.
Instructions
Game Info

Number Fill
Drag the numbers to the correct spots.
Similar Games

Daily Crossword
Play a new crossword puzzle everyday. Solve a crossword by entering the solutions of the given horiz...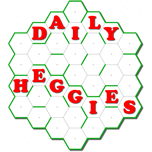 Daily Heggies
Daily puzzle game in 2 degrees of difficulty. Draw a single line that connects all cells.

Gobang
Move marbles to get 5 of the same marbles in a row. Remove as many marbles as indicated.