| | |
| --- | --- |
| Product Type: | Cantilever wall travelling jib |
| Lifting Capacity: | 0.5 ton -16 ton |
| Span: | - |
| Lifting Height: | 6 -30m |
| Working Class: |   |
| Ambient Temperature: | -20~40℃ |
|   |   |
Wall travelling cantilever crane is a cantilever jib crane, travelling on rails mounted on workshop walls. With low headroom cantilever design, the wall travelling cantilever crane is widely used in various workstations and workshops. The hoist mechanism of the wall travelling jib crane is similar to that the floor mounted jib crane , but without a vertical supporting boom.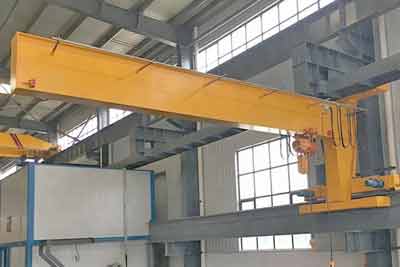 Wall travelling cantilever jib crane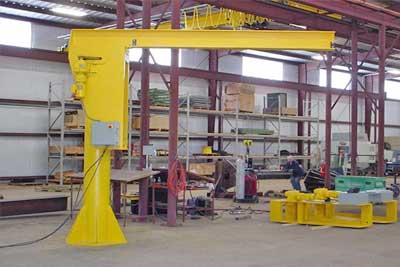 Floor mounted cantilever jib crane
Yuantai Crane, one of China's leading jib crane manufacturers, offers high-quality jib cranes at competitive prices. Our company manufactures jib cranes in accordance with national and international standards. Before being delivered, all of our cranes are thoroughly inspected.
Advantages of wall travelling cantilever crane
The wall travelling cantilever crane has more mobility than a fixed jib crane. As a result, wall travelling cantilever cranes have a larger operating area and are more productive.
A variety of styles and a sensible design
Highest quality, lowest price, and most cost-effective
High productivity and a broad work space
Broad application and high adaptability
Long-lasting material, cutting-edge technology
Mobility, speed, ease of operation, and safety equipment
Our company offers a variety of benefits, one of which is personalized crane service. Our small jib crane, for example, is an ideal lifting solution if the crane is utilized for light lifting duties. A heavy duty jib crane is ideal for lifting large objects and loads.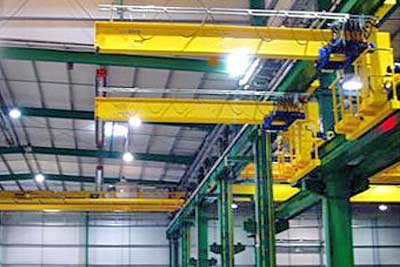 Traveling Cantilever jib crane with low headroom wire rope hoist
Wall travelling cantilever jib crane with cd/md wire rope hoist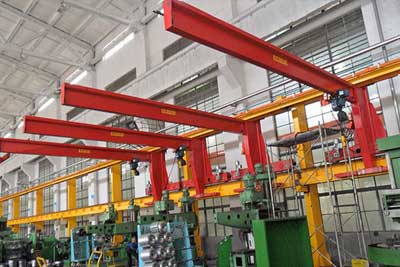 Cantilever wall travelling crane with light weight European style electric chain hoist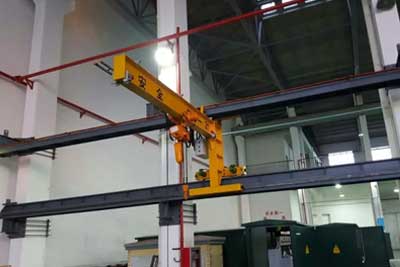 Cantilever wall travelling crane with economical electric chain hoist
Applications of cantilever wall travelling crane
Fabrication shops, Machine shops, Assembly floors, Loading/Unloading purpose, Indoor/Outdoor duty, and other designated places.
Wall travelling cantilever crane is especially useful for short-distance or serried lifting.
It's not allowed to utilize it in a combustible, explosive, or corrosive environment.
Features of cantilever traveling jib cranes
The most load lifting flexibility is provided by cantilever traveling jib cranes.
The cantilever jib crane is one of the most common pieces of warehouse or production equipment. The cantilever crane can lift extraordinarily heavy objects and maintain them stable while they're being relocated.
A traveling jib crane comes in handy when there are overhead obstructions that would make a permanently installed overhead crane difficult to operate.
The cantilever jib cranes are used in various industrial application for material handling, such as, transportation, mining, and construction,etc. They are also can be used in warehouses and workstations, etc.
How to buy your customized jib crane
There are many different types of wall travelling cantilever cranes available and each type serves for different purposes and functions. They are all based on the mechanical principle of multiplying force to hoist and move loads , but they also vary with each other in different ways. A jib crane is a significant investment. When purchasing a new jib crane, there are several things to think about.
Lifting capacity -The lift capability is the first and probably most essential consideration. Different types of jib cranes have different load restrictions. Cranes that are permanently installed can typically lift more than a mobile jib crane. The mobile crane's popularity derives from its versatility.
Crane operations -Crane operations are another key element. Is the lifting equipment simple to use? Is the crane system difficult to operate or does it require extensive training? Is the jib crane able to work smoothly and free of jerks and stutters?
Crane quality -Is the cantilever crane also of good quality? To save maintenance and repair costs, the crane materials should be of the greatest quality. If a jib crane is made of inferior materials, the lowest price may not be the best deal. The less priced jib crane may eventually cost more than the more expensive crane due to maintenance and repair expenditures.
Types of lifting loads -When choosing a jib crane, it's also crucial to consider the type of lifting loads that will be handled. If the crane will be required to hoist particularly big loads, a permanently installed jib crane may be preferable over a mobile crane.
How To Make Sure Travelling Crane Safe?
Jib crane should be operated by professional jib crane operators.
Before utilizing, inspect the mechanical, electrical, and safety components to ensure they are in excellent working order.
Check the electronic brake, position limiter, and working switch.
The operator must maintain a safe distance between the lifting materials.
Lifting equipment should be securely tied and balanced.
The working environment should be kept clean and orderly.
Overloading is prohibited.